Perfect Thank You Notes: advice and examples to grow your business.
Write the perfect notes to customers, partners, and friends.
We all think we're responsible for our own success, but we couldn't do it without each other. Friends, family, and business contacts give advice, loan money, and provide emotional support. Have you thanked them lately?
In honor of National Small Business Week, thank your customers, partners, and friends who have helped you build your business. Use our examples and downloadable cards to send your gratitude.
It's easy! Here are some examples:
Thank a Business Partner
Hey Matt,
Thanks for being so helpful in our recent conversations. We're looking forward to our National Small Business Week promotion, and you've shown that DigiMelt is the right company to partner with. Your advice and support has been integral to this process.
Thanks again, and Go Sox!
-Brett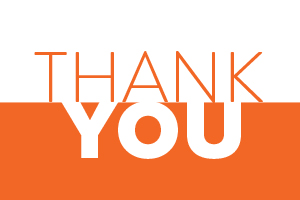 Thank a Customer
Hi Emma,
Just wanted to send a quick note to say thanks for visiting us at the store last week. Glad we were able to help you find the perfect outfit for your holiday party. You can never go wrong with a classic dress and a fun necklace. Hope you had fun at the holiday party. Have a great week!
Thanks again for shopping with us,
-Allison
P.S. I know you mentioned you loved the blazer in the window. Thought you should know it's on sale this week!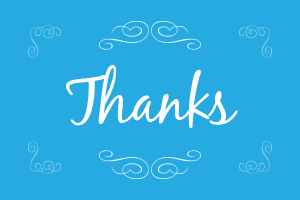 Thank a Friend or Mentor
Hi John,
Thank you for taking the time to speak with me. I know how busy you are so I can't thank you enough for your time and guidance. I really enjoyed our conversation and appreciate your honesty with me. I've made some changes to my business plan based on your recommendations. Also, thanks so much for making that introduction! You were right. Kathy is a wealth of knowledge. She gave me some great suggestions for groups to join.
Sincerely,
Alex Parker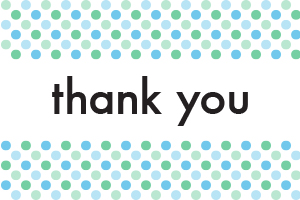 Why thank you notes?
New friends matter when you're a small business owner. Well-written and timely thank you notes foster relationships. When someone gets a card in their mailbox, they smile. Why do you think people have "thank you cards" hung up around their desks? We need other people to be successful, so why not work to cultivate positive relationships? A thank you note can do that quickly and easily. According to a study by Emotion, thanking people makes them more likely to continue a relationship, which leads to more opportunities for you. Unlike marketing campaigns and website updates, showing gratitude is free. It's good for new relationships, and winds up being good for you, as well. Gratitude helps us treasure good experiences, deal with conflict, and build better relationships. Remember: Focus on the thank you itself, not on the materials it's written on or the potential sale you'll get.
What every thank you note needs
A GREETING
How to start? With a greeting, of course! Make sure to use the recipient's name to make the note more personal. Suggestions:
Hi Steve,
Dear Steve,
Steve,
Hello Steve,
A THANK YOU
Thanking is the point of a thank you note, so do it right. Be genuine and specific, no backhanded compliments or funny stuff. Suggestions:
Thank you for helping me out with our 7 mile project. Your support made it happen.
Thank you for being there for me to talk things through. Your insights and advice made me decide to pursue a business loan.
Thank you for advice and for your generosity. Without it, I wouldn't know where to start with social media marketing.
A PERSONAL TOUCH
A robot can write a thank you note, but it won't be very meaningful. That's why you need to pepper in personal touches. Show that you remember details about the recipient's life (without being creepy!). This shows that you not only listened to them, but care about their well-being. Suggestions:
I hope to see you at a Giants game this summer. I'll let you know if I have tickets!
Take good care of your knee. Hope you're up and walking soon.
Enjoy the sunshine in San Diego — I wish we could share a beer together at the beach.
Good luck working on your new blogging project — sounds exciting and I know you'll do great.
A CLOSING
Now wrap it up! Close with a greeting that feels comfortable to you. Suggestions:
Best,
Best Wishes,
Sincerely,
Thanks again,
With gratitude,
Keep in touch,
When to send thank you notes
Thank you notes can be sent at any time, but here are some common times that people send them:
After an interview. Thank the person who interviewed you. Thank them for their time and for their explanations of the job.
After a meeting. After an important meeting, thank the key players for attending and sharing their insights.
After events. You often meet new people at events, so thank them for the pleasure of their company and for sharing information with you.
Out of the blue. These are the best kinds of thank you notes — totally out of the blue!
After a referral. If someone refers a new client or customer to you, take out a note card and pen a thank you note. This will show your gratitude and encourage that person to continue to refer people to you.
During the holidays. The holidays are a great excuse to thank people for a great year together.
Frequently Asked Questions